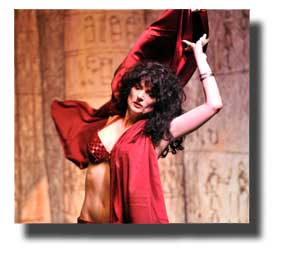 Acknowledged as an ancient and universal thread which binds a sisterhood of dancers through the ages, belly dancing is a profound expression of the joy of life. It is the way for a woman to creatively manifest the myriad experiences that make her the beautiful, knowing, sensitive, and sensual being she is on the inside. Teaching dance is a way to help women access and share their inner wonder in a way that others can appreciate and enjoy.
Belly dance, (dancing), instruction, performances, coaching... Annette does it all!
Annette Federico Offers
Dance Instruction | Performances |Workshops
uction, performances, coaching... Annette does it all!
Why Belly Dance?
Belly dance is a different way to work out and stay fit. It is weight- bearing and works all major muscle groups, especially the core. It is mostly low-impact, yet provides a great cardio workout, too. Besides its conditioning benefits, it also provides an outlet for creative expression of a woman's inner – self. Focusing on learning an art form offers a time to escape from the pressures of daily life and an opportunity to immerse oneself in beautiful music and movement.  Besides the physical and emotional benefits, learning to belly dance offers a glimpse into an ancient and beautiful culture. Belly dance can build and strengthen self-confidence and enhance a woman's feminine strength and energy; just an hour a week devoted to dance can make a difference in the way a woman moves through her day!

Belly dance is joyful, and the joy is contagious! Classes foster great feelings of support and camaraderie among participants as well as providing social opportunities to enjoy what the experience of dance has to offer.   Whether the goal is to become a professional and perform, or just to dance for fitness and fun, we are all part of this great journey of growth as dancers.

Annette is trained in the traditional cabaret style of Arabic dance which draws inspiration from the dances of the Middle East, Northern Africa, and Eastern Europe. Performed as a series of short dances, each of a different tempo and mood, cabaret style requires a high degree of technical expertise as well as a depth of emotion necessary to interpret music and engage the audience. Annette's skill with zills, the veil, and a variety of traditional props have made her a favorite performer, particularly among ethnic audiences, at a variety of public and private venues over the last several years.

Belly dance instruction, performance, or coaching …. Annette does it all!