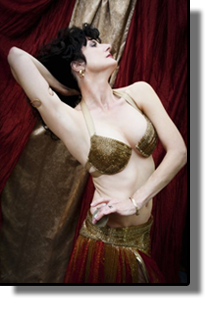 Annette is a Fresno native, born and raised in this culturally diverse community. She was inspired to explore the richness of the ancient art form, belly dance, popular because of the many ethnic groups from the Middle East and Mediterranean areas who settled the Fresno area and whose influence is still keenly felt.

Annette has been a familiar face to area theatre goers due to numerous appearances at The Second Space and Roger Rocka's Music Hall. It is an association which dates back to the early 80s. Consequently, she brings a wealth of performance training and expertise to her dancing. A favorite fixture on the local dance scene, she has also performed at scores of events at various venues, dance festivals, wineries, and restaurants throughout California. Favorite guest-star appearances include performing at The Barns of Rose Hill in Berryvile, Virginia, Taverna 19, in Pittsburgh, Pennsylvania and at the Pyramids Restaurant in Honolulu, Hawaii.
Her live music performances include the following: The Brothers of the Baladi, Light Rain, Mirage, John Chookasian, and Cerro Negro. Renowned for her virtuosity with finger cymbals, she's been invited to "sit in" on zills more than once with Doug Adamz of Light Rain. From January of 2002 to October of 2012, she was the house dancer at The Mediterranean Restaurant, performing every Friday evening. Since January of 2012, she has been the featured dancer at The Phoenician Garden Restaurant in Fresno.
Besides performing, Annette is in demand as an instructor, and has taught her series of workshops in California and recently in the Washington, D.C. area. (The Washington area workshops were favorably reviewed in the November/December 2012 issue of Zahgareet! Magazine) Recently, Annette was invited to teach belly dance workshops for NCDC (Northern California Dance Collective) at their annual dance camp held in Kings Canyon National Park. This past summer she was a featured instructor and performer at Rhythmfest in the Virginia/DC area, and was an instructor and performer for the 2015 Las Vegas Belly Dance intensive where she taught her Vintage American Cabaret workshop.

Read the review from July, 2012!
Annette had studied ballet and jazz for a number of years before embarking upon her Middle – Eastern dance instruction, training extensively with Cory Zamora. In addition to Ms. Zamora, Annette's favorite instructors include Artemis Mourat, Lubna Eman, Miramar, and Sabrina Hart. She teaches beginning, intermediate, and advanced classes at Studio 65 in Fresno, as well as offering private instruction. Recently, Annette adapted belly dance technique to create what she has dubbed "Golden Goddess Belly Dance," and she has been working with groups of "Golden Goddesses" at some assisted living facilities in Fresno. In addition to teaching, Annette has been a regular contributor to Zaghareet! Magazine, writing articles on topics ranging from zil playing to an entire series devoted to the topic of dancing professionally in restaurants and clubs. Besides teaching her classes, Annette has produced two instructional DVDs.
September/October 2013 issue of Zaghareet! magazine.

For the past three years, Annette has produced "Strictly Belly Dance: An Homage to American Cabaret-Style Belly Dance" for Fresno's Rogue Festival. This show paid tribute to the history and tradition, as well as showcasing the entertainment value, of this classic dance genre. The show, which has played to sell-out houses, grew out of a desire to educate and promote a style of belly dance which had been underrepresented in this very popular performance festival. Since September of 2014, Annette has brought the bands such as Light Rain and the Brothers of the Baladi to Fresno to perform concerts featuring dancers from Fresno, throughout California, and even from the East Coast.
Trained in the classic cabaret style of belly dance, her complete routines feature the variety and excitement of this style. She also specializes in performing with a variety of traditional props, such as sword, cane, shamadan and tray with a tea set or candles. For something a little "edgier," Annette also performs with her six-foot long boa constrictor, Ruby. In addition to her belly dancing, Annette is a certified Zumba Fitness instructor and has training in Argentine Tango and ballroom dance.
To have Annette perform for your special event, please contact her at:[email protected].